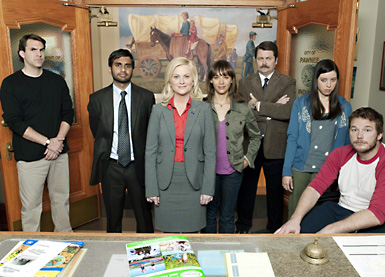 As with most comedies NBC throws out on Thursday nights, I decided to give 'Parks and Recreation' a shot and it turned out to be a pleasant surprise. There had been plenty of hype around this show starting with early discussions that this would be an 'Office' spin-off involving Rashida Jones' character. After that plan fizzled away, the creators of 'The Office' (U.S.) decided to go with this similarly setup mockumentary starring SNL alum Amy Poehler. As with most pilot episodes, there were highs and lows so here is my in-depth analysis after the first viewing.
Starting with what I liked, 'Office' creators Greg Daniels and Michael Schur definitely left their mark in this episode with their similar brand of dry, sarcastic humor. It forced the viewer to pay close attention to the details of the happenings to ensure no joke was missed. I thought the pilot did a good job introducing each of the main characters, giving a sufficient background information but careful not to reveal too much, too soon. It allowed for potential back stories (Ron+Mark favor, Leslie+Mark romance) to be developed in further episodes. I like the prospect of Bobby Knight making a cameo appearance at some point in the series as well being Mark's idol and all. My favorite character has to be Tom, played by Aziz Ansari. I think he plays the douchebag role fairly well (following his recent stint as an intern on 'Scrubs'). The best line of the episode also came from him: "Committees cover our democracies with blood" as he rehashed Leslie's memoir. Rashida Jones did a good job distancing her character from that of Karen on 'The Office' to ensure there is no confusion with the audience. April the intern is also a fresh face on the TV scene and I hope to see plenty more of her and Rashida's boyfriend on the show (the latter appearing as a "guest star").
Now the negatives, it got to a point where 'Parks' was almost too similar to 'The Office' to the extent where it became a copycat version. Amy Poehler's Leslie character is basically the female Michael Scott and the bonehead stunt with her falling into the pit to make a point reminded me of Michael's drive into the river because the literal GPS instructions. As we've seen on 'The Office', too much Michael-centered episodes do not bode well comedy wise and I hope 'Parks' does not oversaturate this series with Leslie's shenanigans. Another item to note which may not jive with the general public is that there are limited likable characters on the show. I personally don't have a problem with this, however I feel that it will be tough for the series to find an audience if the show focuses to much around the nonsense. 'The Office' had the Jim and Pam intrigue working for them which allowed for a more global fan base.
Ratings wise, depending on which metric you look at, 'Parks and Recreation' was a success and a failure. Following an all-new (and very funny) episode of 'The Office', 'Parks' retained 91% of the audience reaching 6.8 million viewers. It did score a 3.0 rating in the highly sought out 18-49 demographic which should please NBC execs. However to put things in closer perspective, a similar show on the NBC Thursday docket, '30 Rock' also ended up netting 6.8 million and a 3.1 in the demo in a timeslot which rivaled ratings stalwart 'CSI' over on CBS. The '30 Rock' pilot episode in 2006 was able to garner 8.1 million viewers and a 2.9 demo rating premiering without an 'Office' lead-in on a Wednesday night. The show has since gone on to win Best Comedy Emmys in each of its two seasons with rating numbers still struggling to keep up with 'The Office'. This all makes me wonder how well 'Parks' will be able to hold up, not having the Emmy hype and with Amy Poehler being a poor man's Tina Fey. I like how the show fits in the mold of comedy of the latter 2 shows however I feel like it will struggle without a regular 'Office' lead-in, having to follow the now out-of-place Thursday comedy 'My Name is Earl' at 8:30 PM on Thursdays.
Looking ahead, I'm going to continue supporting the show and hope it can develop its own flavor to distance itself from 'The Office'. Similar to 'The Office's 1st season, 'Parks and Recreation' will roll out 6 new episodes in its premiere season with the NBC Thursday schedule looking like so:
| | | |
| --- | --- | --- |
| Date | Time (ET) | Description |
| Thu. Apr. 9 | 8:30 | 1.01 Make My Pit a Park (Pilot) |
| Thu. Apr. 16 | 8:30 | 1.02 Canvassing |
| Thu. Apr. 23 | 8:30 | 1.03 The Reporter |
| Thu. Apr. 30 | 8:30 | 1.04 Boys' Club |
| Thu. May 7 | 8:30 | 1.05 The Banquet |
| Thu. May 14 | 8:30 | 1.06 Rock Show |
Follow episodes of 'The Office' here!