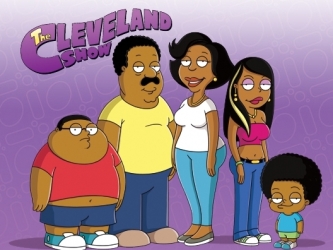 I was able to get my hands on an advanced screening of the pilot episode for 'The Cleveland Show', a spinoff of FOX's animated series 'Family Guy', and thought I'd pass on a review of sorts (*Spoiler Alert: details of the plot may be discussed here).
From 'Family Guy' creator Seth MacFarlane, comes this new animated comedy that is set to debut in Fall 2009. FOX is prepared to back this project full fledge as it was announced recently that in addition to a 22 episode 1st season commitment, the network has already ordered 13 episodes for a 2nd season. A seemingly high vote of confidence for a show that has yet to air a single episode. I did get the pleasure of watching the pilot episode and while it is definitely a work in progress, overall I wasn't too disappointed with the end product.
After another house disaster in Quahog, Cleveland Brown along with son Cleveland Jr. decide to head to LA to pursue a career in baseball recruiting. However, along the way they get sidetracked to Virginia where Cleveland meets up with an old high school flame (Donna) along with her 2 children (Roberta and Rallo). As the story goes, an opportunity opens up and Cleveland ends up getting together with Donna and starts a new life together in Stoolbend, Virginia. Here is an extended trailer preview:
At first glance, this series appears to basically be a copycat of 'Family Guy': 5-member household with 3 children, a maniacal little child, a wise-talking animal, fantasy flashbacks, and 3 eccentric friends. I wish the creators hadn't gone so obviously down the same path and deviated a bit from the parent product. As we all know spin-offs tend to work better when the child product establishes its own identity and distances itself from the parent – 'Frasier' was probably the best example gaining its own merits coming out of the shadow of the previously successful 'Cheers'. I'm hoping the show does not continue to play up too many black stereotypes like the sassy daughter character. None of the children in general are entirely flattering or intriguing as of yet and hoping there are plenty of developments here.
While many have already questioned why Cleveland of all people is getting the 'Family Guy' spin-off, its actually not too far fetched. Although the obvious choice may have been to go with a Stewie and Brian show, we've seen shows like 'Joey' fizzle out since the story lines have been over-saturated. I like how Seth went with a relatively underdeveloped character similar to Frasier of 'Cheers'. The similarities from the latter are not too far off either – side character comes back home to start a new life, has a son, also an ex-wife back in his old digs. I do think the Bear and Holt are great side characters on the show and can offer some comedic variety.
It'll be interesting to see how much integration this new show has with 'Family Guy'. I'm hoping any character crossover is done in a limited fashion so as to distance itself but also keep original viewers interested. I'm a bit puzzled at why the show will start airing at 8:30 PM following 'Simpsons' and preceding 'Family Guy'. It would seem to make more sense to group the show along with its predecessor in the same hour (which is the plan for FOX's 2010 schedule). In any case, I have my doubts but I think the show has a chance to succeed if it can develop its own flavor. With 'Family Guy' also potentially in the running for a Best Comedy Series Emmy, it can hopefully build off the success. 'The Cleveland Show' is head above heels better than anything else FOX has attempted to fill the 8:30 and 9:30 slots in recent years – deadbeat comedies like 'Quintuplets', 'The War At Home', 'American Dad', and 'Sit Down, Shut Up' have been excruciating to watch. Being a sports buff, I actually would have preferred to see Cleveland pursue his dream in baseball recruiting with Joe Torre in LA but alas I'll settle for whatever story lines lie ahead for the Browns in Virginia.
The following Season 1 air dates have tentatively been announced with the Series Premiere scheduled for release on Sunday, September 27, 2009 on FOX:
| | | |
| --- | --- | --- |
| Date | Time (ET) | Description |
| Sun. Sept. 27 | 8:30 | 1.01 Pilot |
| Sun. Oct. 4 | 8:30 | 1.02 Old Friend and New Friend and Even a Job |
| Sun. Oct. 11 | 8:30 | 1.03 Da Doggone Daddy-Daughter Dinner Dance |
| Sun. Oct. 18 | 8:30 | 1.04 The One About Friends |
| Sun. Nov. 8 | 8:30 | 1.05 From Bed to Worse |
| Sun. Nov. 15 | 8:30 | 1.06 Fields of Streams |
Also See: Parks and Recreation Review