Check back Thursday July 16 at 8:35 AM EST for emmy nominations 2009!
Check back Sunday September 20 for all the emmy award winners 2009!
Also See: Fall TV Preview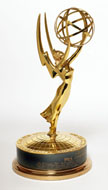 The 61st annual Emmy awards take place on Sunday September 20, 2009 this year at the Nokia Theatre in Los Angeles, California and will be televised on CBS from 8-11 PM EST. Nominees will be announced by Chandra Wilson, Grey's Anatomy and Jim Parsons, Big Bang Theory alongside Academy Chairman and CEO, John Shaffner. EW has learned that Neil Patrick Harris will be hosting this year's ceremony which should be a great plug for the deeply underrated How I Met Your Mother.
This year, the voters are electing 6 nominees per category, an increase from the standard 5 in years past. June 26 is the deadline to return all nominating ballots to Ernst & Young for tabulation. If we're lucky, there will be another leak of the Top 10 nominees in major categories similar to 2007 broken by TheEnvelope.com.
My predictive nominations may be slightly swayed by the shows I actually watch. Here nonetheless is my Top 3 predictions in the Comedy genre (in order of expected winner):
Best Comedy Series: 30 Rock, The Office, Entourage
Best Lead Actor (Comedy): Alec Baldwin 30 Rock, Steve Carrell The Office, Zachary Levi Chuck
Best Lead Actress (Comedy): Tina Fey 30 Rock, Julia Louis Dreyfus New Christine, Amy Poehler Parks and Recreation
Best Supporting Actor (Comedy): Neil Patrick Harris HIMYM, Jeremy Piven Entourage, Rainn Wilson The Office
Best Supporting Actress (Comedy): Holland Taylor Two and a Half Men, Jaime Pressly Earl, Cobie Smulders HIMYM

The actual list of Comedy nominees as announced by the Academy are as follows:
Best Comedy Series
Entourage, HBO
Family Guy, FOX
Flight of the Conchords, HBO
How I Met Your Mother, CBS
The Office, NBC
30 Rock, NBC
Weeds, Showime
Best Lead Actor (Comedy)
Jemaine Clement, Flight of the Conchords
Tony Shaloub, Monk
Steve Carrell, The Office
Alec Baldwin, 30 Rock
Charlie Sheen, Two and a Half Men
Jim Parsons, Big Bang Theory
Best Lead Actress (Comedy)
Julia Louis-Dreyfus, New Adventures of Old Christine
Christina Applegate, Samantha Who?
Sarah Silverman, Sarah Silverman Program
Tina Fey, 30 Rock
Toni Collette, United States of Tara
Mary-Louise Parker, Weeds
Best Supporting Actor (Comedy)
Jon Cryer, Two and a Half Men
Kevin Dillon, Entourage
Neil Patrick Harris, How I Met Your Mother
Jack McBrayer, 30 Rock
Tracy Morgan, 30 Rock
Rainn Wilson, The Office
Best Supporting Actress (Comedy)
Kristin Chenoweth, Pushing Daisies
Amy Poehler, Saturday Night Live
Jane Krakowski, 30 Rock
Elizabeth Perkins, Weeds
Kristin Wiig, Saturday Night Live
Vanessa Williams, Ugly Betty