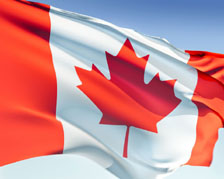 July 1, 2009 marks the 142nd anniversary of Canada's union as a nation. As many will gather at Parliament Hill in Ottawa to celebrate the occasion, I thought I'd take a moment to shout out to some notable Canadians in the world of Entertainment/Sports. Granted we all know Pamela Anderson, Jim Carrey and Wayne Gretzky are household Canadians, this Top 5 list highlights success from the past year.
Georges St. Pierre – Montreal, Quebec
Georges exacted revenge on Matt Serra to become the undisputed Welterweight Champion in April 2008. St. Pierre later successfully defended his title against BJ Penn pummeling the American via TKO. Next up for Georges is Thiago Alves in July at UFC 100.
Sarah Chalke – Ottawa, Ontario


Sarah performed double duty this year maintaining her role as Dr. Elliot Reid on Scrubs while also dropping in occasionally at How I Met Your Mother as Stella, a potential Mother candidate. Chalke will continue to play a reoccurring role in the relaunch of Scrubs next year.
Nickelback – Hanna, Alberta


Nickelback dropped their 6th album 'Dark Horse' in November 2008 and it has since remained in the Top 20 Billboard 200 for 31 consecutive weeks peaking at #2. The album was also certified 2x platinum in April. The group will be touring North America starting in July.
Justin Morneau – New Westminister, BC


The 2006 MVP finished 2nd in voting behind Dustin Pedroia in the 2008 AL MVP race. The Silver Slugger hit 23 HR and added 129 RBI leading the Twins to a 1-game playoff against the White Sox for the AL Central eventually losing 1-0. Morneau currently ranks 2nd in RBI in the American League.
Will Arnett – Toronto, Ontario


Will has pretty much been everywhere this past year lending his voice in 'Horton Hears a Who', 'Monsters vs. Aliens' and the upcoming 'G-Force'. He also appeared in 'Semi-Pro' and earned an Emmy nomination guest starring as Devon Banks on 30 Rock.
Honorable Mention: Sidney Crosby (Stanley Cup Champion), Michael Cera (Year One), Cobie Smulders (How I Met Your Mother)
Bon Fete Canada!