Tomorrow will mark the first anniversary of the official mukulj.com launch and I can't believe it has been 1 year already. The original intention for this web site was to allow my hosted hockey pool(s) to live on after Waterloo shut down my web space. I decided to take it another level and enter the world of blogging as means to express my thoughts on topical subjects (which ended up heavily gravitating towards TV and Sports). It's been a great experience learning the various components involved in hosting your own site and also very enlightening to see that a random post debating the merits of Kelly Clarkson and Carrie Underwood would end up being my highest trafficked page. Thanks to all my Blog Rollers for assisted traffic and continued support. I took the time to reread all of my posts since inception and felt it would be fun to relay some pertinent numbers from the year that was (excludes Hockey pool numbers that generated consistent traffic in the playoff months)…
For starters, I quickly realized how lazy I have gotten since the first month of launch. The following graph depicts my posts per month decline over the course of the year: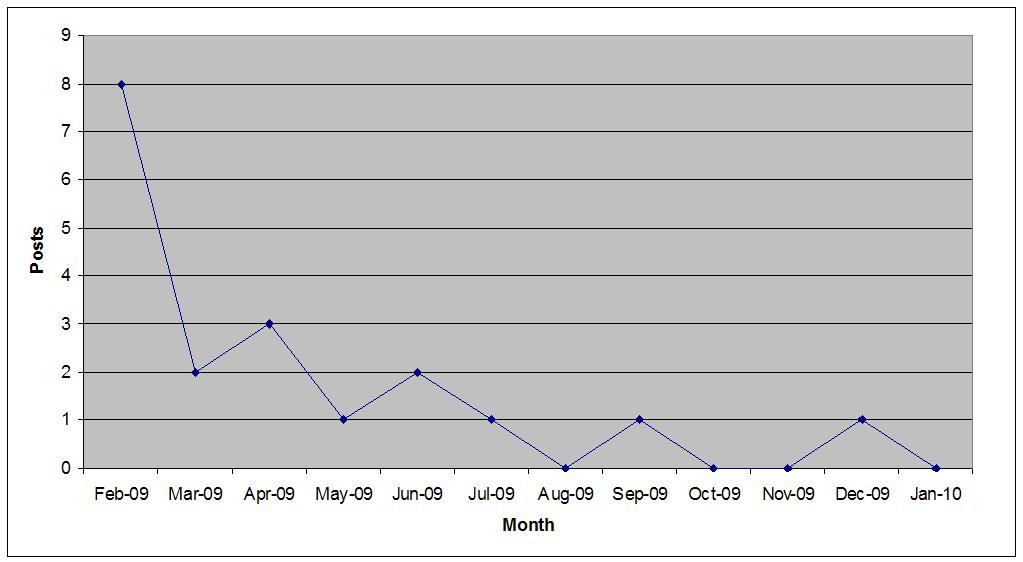 Visitors
New = 66.3%
Returning = 33.4%
Traffic Sources
Search Engines = 40.6%
Direct = 33.9%
Referring Sites = 25.5%
Search Engines
Google = 77.8%
Yahoo = 11.4%
Bing = 10.8%
Top Keywords
1. mukul joshi
2. kelly clarkson vs carrie underwood album sales
3. kelly clarkson vs carrie underwood
Top Referrals
1. Keith Lam
2. Matt Restivo
3. Dheerja Kaur
Top Page Views
1. Kelly Clarkson vs Carrie Underwood
2. 'The Cleveland Show' Pilot Episode
3. 'The Office' TV Schedule
Highest Avg. Time Spent
1. Best of Sports 2009
2. Kelly Clarkson vs Carrie Underwood
3. 'Parks and Recreation' Review
Top Traffic Days
1. July 16, 2009 (Emmy nominations announced)
2. September 28, 2009 (Cleveland Show pilot airs)
3. February 13, 2009 (initial launch)
Special thanks to Keith Lam, WordPress and Google (adsense/analytics) for providing the appropriate tools for site maintenance, and one final shout-out to Blogs.com for the early recognition of my 'Parks and Recreation' review.